0630, Saturday 23.09.2023

We are currently experiencing heavy Snowfall at the Event Base (as per the forecast). Please take care if you are driving up the valley to Lac De Moiry.
1330, Friday 22.09.2023

Due to the forecast conditions (snow overnight and fog / cloud coverage over the summit) we have now decided to move to contingency plans for tomorrow's event.
[Please note: The details listed here supersede any information you may read elsewhere on this website, the participant manual or 3rd party websites.]
There are two contingency measures we are putting in place:
1) The start time will now be 0900 hrs.
Site open from 0800 hrs, number collection from 0815 till 0840 hrs, welcome from the team at 0850 hrs.
The purpose of this is to ensure slightly better visibility / less time on the route before visibility improves in the morning.
2) The route will be two laps of Lac de Moiry. We have added this new contingency route to the Route tab of this website.
If you wish to view the route (and download the GPX file) in advance then please click here and select "Contingency" from the drop down in the top right hand corner of the map view. The link to download the GPX file is located in the top right hand corner of this view also. Conveniently, this two lap contingency route is almost exactly the same distance as the published full route.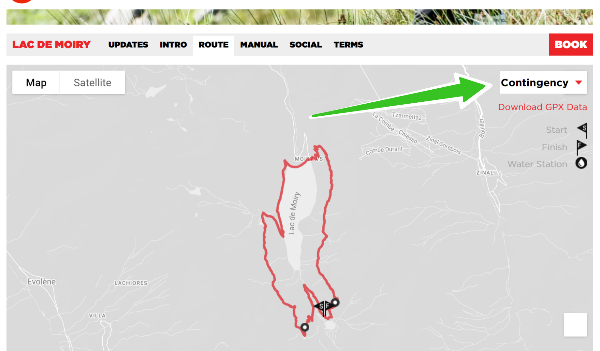 The purpose of this is change to keep to the lower levels which will be more easy to navigate based on likely snow and sub zero temperatures at the higher altitudes.
Clearly it is a shame to have to make these changes we are confident that you still have a great day on the trails.
Please continue to refer back to this page in case we have to publish further updates.
1700, Thursday 21.09.2023
Weather update: The weather forecast for Saturday hasn't changed much over the course of this week; temperatures (at Lac de Moiry altitude) will be around the zero degrees Celsius mark with light northerly winds adding an additional bit of wind chill factor. The main issue here is precipitation which will almost certainly fall over Friday and Saturday - and more precisely, at what altitude this starts to fall as snow. The route rises up significantly from the level of the lake. There is of course the secondary decision here re cloud levels and visibility.
Although we can never rule out a cancellation due to weather conditions, even at the last minute, we are still hopeful this won't need to be the case.
Our current hope is to still run the event as published (or close to it). We may delay the start by an hour or so (we will notify you via email / sms if this is the case) if this means we get more of a break in the weather front.
If more change is needed then we have a couple of options to keep to the lower levels. The most significant change of these would be to move to a lapped route of the lake. This certainly won't give you the full impact that this event should - but at least it will keep the competition alive, and enable you to hit some good trails.
We will post a further update regarding the weather around lunch time tomorrow (Friday). This will be posted here (to the Updates tab).
1000, Tuesday 19.09.2023
Email, "Lac de Moiry 2023 Event Update" has been sent to all Checked-in participants. This email details final reminders and useful pointers as event day approaches.
1900, Monday 18.09.2023
Due to the weather this week we have added "base layer top" (a long sleeved thermal garment) to the Mandatory Kit list. We would also like to remind you that the event site is open to the elements with limited shelter (though the car park is right on site). As such please bring plenty of warm clothes and come prepared for all weather conditions.
1730, Sunday 17.09.2023
The weather isn't looking as great as we all might like for this coming final week. In summary, Summer is definitely over! The days preceding the event are showing plenty of precipitation which is likely to fall as rain. It looks like temperatures will continue to drop as we move towards next weekend. Event day (being Saturday) may see temperatures drop to the zero degrees Celsius mark, and there may be some light snow showers. We will be keeping a close eye on the weather. We will likely revise mandatory kit requirements for this event tomorrow or Tuesday, once we have a clearer picture of the weather - certainly it looks like it will be a case of wrapping up well.
1730, Tuesday 29.08.2023
Check-in is now open! Participant email "Lac de Moiry 2023 Check-in open" has been distributed. To access Check-in simply follow the link provided in your email or log in to your online account and select the ENTRIES tab > Lac de Moiry > Check-in. Check-in closes at midnight on Sunday the 3rd of September.
0830, Tuesday 29.08.2023
Check-in: This will open later today and we will email you a direct link for checking in at this time. Please keep an eye out in your inbox!
1200, Wednesday 29.03.2023
Looking for somewhere to stay? Look no further!
Our friends at La Bergère are offering a 10% discount for all participants and spectators using the code END10. Avid trail runners John and Emily will be offering bed and breakfast as well as half board in their recently renovated chalet. Not only that, they're also offering a shuttle service to the event! Their chalet is close to the local town of Grimentz, making it the perfect base to explore the local area. Contact Emily direct to secure your room - Once they're gone, they're gone!
1200, Friday 10.03.2023
Travel advice - below we outline the best transportation options to get you to the event:
By air
The closest international airport is Geneva (GVA) - Skyscanner link
By car
This is the easiest way to navigate to the event. Event parking is situated by the Glacier de Moiry, Grimentz, 3961, Switzerland.
By train
The closest train station for the event that is served by long-distance trains is Sierre/Siders. From Sierre/Siders, you can reach the event location using the bus network.
There are regular trains from Geneva Airport & Geneva (2 hours) and other European destinations.
By bus
The bus stop to disembark at is 'Moiry, glacier'. A network map is available here. There are limited bus options to get you to the event site in time for the start so please plan carefully.
We recommend staying in either Grimentz (29 mins journey) or Zinal (42 mins journey) if you plan to access the event by public transport as there is a direct bus (B 455) from both locations that will arrive at the event site in good time on the morning of the event.
Visit the SBB website for both train and bus schedules and tickets.

0700, Thursday 23.02.2023

Check-in! : We will be asking all registered participants to check in online approximately two weeks from the event. The Check-in process will result in a simpler event experience for you by removing the usual on-the-day administration. Within the Check-in process, we will ask you to 1) Confirm your preferred postal address to enable your participant number to be posted out, and 2) Watch the mandatory event safety video.